Coming Back To The Office – Team Building
Did you know Strayboots is back with in-person scavenger hunts? We have many types of options all over the country with customizations, including food and drink stops, company trivia, or even complete customization!
Now that companies worldwide are planning to bring more workers back to the office, team building is more important than ever! One survey of 350 business leaders by staffing firm LaSalle Network found that 70% plan to have employees back in the office in some capacity by the fall of this year.
Over time, many workers adjusted to working from home during a global pandemic. Now many will need to learn how to work from the office during a global pandemic.
Hybrid Work
High-profile companies like Microsoft, Apple, and Google say they will be using a hybrid work model, where workers spend time working both from the office and from home, going forward. And business leaders don't seem to think that shift is temporary. In the LaSalle survey, 77% of respondents said they believe their workforce will use a hybrid model next year.

Employee Control of Company Culture
A recent survey done by Morning Consult on behalf of Prudential polled 2,000 adults working full-time. It found that post-pandemic, 87% of American workers working remotely during the pandemic would prefer to continue working remotely at least one day a week. Among all workers, 68% say a hybrid workplace model is best. Importantly, 42% of current remote workers say if their employer doesn't continue to offer remote work options long-term, they'll look for a job at a company that does.
Today, workers are quitting their jobs at the highest rates in 20 years — the highest rate ever reported by the BLS. Some 4 million people quit their jobs in April 2021 alone.
Many said the comfort of being around other co-workers had yet to return — complicating a fundamental plank of the corporate culture. That lack of cohesion has led some workers to question the point of the return to the office — already an issue of contention at many companies that are trying to curtail the flexible work routines that have flourished over the past year.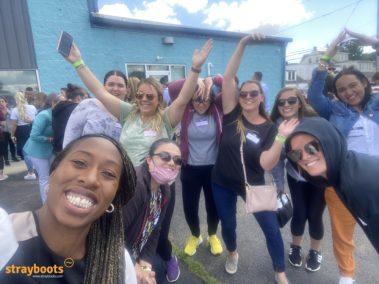 Team Building Activities For Companies
So what does that mean for your company? Prioritizing team building and listening to your employees!
Does your company want to re-establish your team's productivity in and out of the office? Strayboots unique team-building activities prioritize a stronger team environment, guaranteeing happier employees and a better product.
Enhance personal development to build a more cohesive and committed team in a healthier and more productive workplace. Strayboots is here to help!
Lower

Burnout

Keep Great

Talent

Boost Team

Dynamics

Develop Better

Communication

Raise

Morale

Increase

Loyalty
There's No 'I' In Team!
Building stronger teams doesn't have to be painful – for anyone. Our unique team-building solutions let you deliver an amazing team-building activity that every member of your team can enjoy.
Strayboots combines the power of creative, experiential content with the best in mobile gaming technology to make sure everyone's involved – and having fun. Our outdoor scavenger hunts let teams get to know each other in their neighborhood. Have remote employees still? Have them join our virtual trivia component, so they are still involved!
For 2 hours, we'll have them thinking on their feet in a mad dash to hit local sites and score the most points in an experience that lets you: 
Increase team bonding
Foster relationship-building
Encourage problem-solving and critical thinking
Cultivate leaderships
Expand your teams' knowledge in specific areas
Encourage creativity
Team Building Activities for All
Not sure what's the best solution for your team? With Strayboots, you can have both in-person scavenger hunts and virtual trivia games and even mix your team with them!
Contact us today and be ready for the Fall!