Socially Distant Events 
Does anyone else have cabin fever, or is it just us? Are you ready to have some Vitamin D on your skin, but not sure what to do with your team? We have a bunch of socially distant events for you. If you are expecting to read another boring list filled with the same ice-breaking games- keep scrolling, you will be surprised. 
Before we share our list of unique socially distant events, we want to take a minute to appreciate you and your teams. It is easy to lose the true meaning of essential in the current climate of the world and what is truly important. We are here to remind you that you are important, your team is important, your mission and vision are important, and that Team building is ESSENTIAL! Yes, we said it, and we stand behind that. Looking out for your team is what we do best, now read on to find out more about how we can put the social back in social distancing. 
All the options below can be customized to fit your teams' needs when considering comfort and social distancing comfortability. From options like individual gameplay vs team play, team sizes, location, and time you will be able to find something that fits well with your team and your current restraints around gathering together. 
Examples of Socially Distant Events:
Drive-In Movies
Okay, this might sound out there, but if we travel back to the 1950s Drive-In Movies were all the rage. Now follow us as we drive that Delorean back to 2021, where we advanced technology, portable screens and e
veryone has access to a vehicle. This option requires some equipment and setup, but it promises tons of fun. Why Drive-In Movies? This is something that can be set up often and the customizations are endless, not to mention creating some engaging office banter ( even virtually) when announcing an office vote for the featured movie. Oh, and did we mention snacks? Who doesn't love food? People can come, picnic packed, your company can create a custom free concession stand and we are all for partakers ordering pizzas to their car windows! This option is also great for companies who value family life and want to invite employee's families to the event. How fun does this sound? You will never look at your parking lot the same again. 
Jack Box Games
Some companies may not have the option to meet in person yet, but we don't want you to feel left out. Here is a fresh idea for you and your team, Jack Box Games! If you have never heard of this company they should be on your radar. Think of your fun childhood games, but even better, played on advanced technology that is very intuitive. The best part is the price point for these games. Starting around $30 your team can have endless fun playing unique games like Quiplash, Fibbage, or Lie Swatter. There are different Party Box's available so you can shop around for your preferred style of games. We even suggest buying multiple packs, at these prices the more the better! These games are very easy to self-run and are not clunky when it comes to setup. All your players need is a smartphone or web-enabled device! That's it. We highly recommend you Party with Jack Box at your next virtual meeting or socially distant event. Don't take our word for it, try it out with your friends and family, that's how we discovered it! 
Jeopardy Games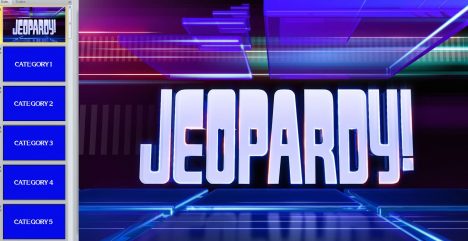 In memory of one of the greatest game show hosts, Jeopardy had to make an appearance on our list. Did you know that on average more people tune in to watch Jeopardy than an episode of Game of Thrones? That's about 10 million Americans, wow!  Whether you leave the technology and planning to the experts or DIY your own Jeopardy experience on a projector and screen with colorful buzzers for each team, this is always a crowd-pleasing socially distant event. There is something fun about the competitive nature of Jeopardy, the intellectual game design, and the ability to participate even as a spectator in the audience- which we all have to admit we do by shouting at our TVs or whispering answers to our family members! The options are endless for customizing categories designed around your business. We even suggest rethinking how you recap information with your teams. Skip the boring question and answers session and pull out your Jeopardy buzzers. Team engagement would increase overnight at your company. 
Scavenger Hunts 
In our opinion, nothing beats a classic scavenger hunt, except maybe a Strayboots Food and Pub Scavenger Hunt. Why do we find this option to be the best? One word, customization! You have heard us mention this word more than once, let's dive in deeper and find out what we mean by this word. You can pick the location, the time, the number of people per team, you can customize the content, the theme and sometimes even gameplay itself can be adjusted. So why is customization important? Customization puts your first. It allows us as the designers to be flexible with your comforts, your definition of socially distant events, and your overall goals of the event.  As the Director of Products for Strayboots, I will share a secret with you- I love customizing events! The more customizations the better, I always say. We want to know your team, their vision, mission, passions, their strengths, and even weaknesses so we can build an event that is more than just hunting around a neighborhood for points, it's engaging, it's impactful, it's memorable..it works. Have you checked out what cities Strayboots has Scavenger Hunts in near you? 
Fishing & Field Games
Who would have thought that fishing would make the list? Fishing is naturally a socially distant sport. A fishing event would take some planning and commitment in order to research and obtain a license and equipment for individuals, but most of the cost is upfront and the equipment and license can be used again. This idea is great for teams looking to slow down, enjoy the sun and each other. On fishing trips friends and family tell stories, laugh, and are away from technology for a few hours. If this sounds like something you would like to do, but are not sure if everyone would enjoy it? Add in some field games like corn hole and ladder ball, picnic eats and you have yourself a slow-paced enjoyable team-building experience.