The Team Building Value of Eating Together
When I think of my family, some of the first memories that come to mind are of everyone eating together around the dinner table, sharing stories of the days they'd had. When I think about the friends I made growing up, I remember laughing with them in the cafeteria of my school, trading snacks and sharing meals. Many others have similar experiences, and that's really not a coincidence.
The past 15 years have brought study after study finding benefits to sharing meals, without any signs of slowing down. For young children, eating with their families is correlated with higher self-esteem, higher grade point averages, closer relationships with family members, and more extensive vocabularies; leaving out the more subjective benefits such as better manners. For teenagers, regularly eating with their families leads to lower rates of depression, obesity, and self-destructive behavior, closer relationships with their families, and those same self-esteem and grade point average boosts.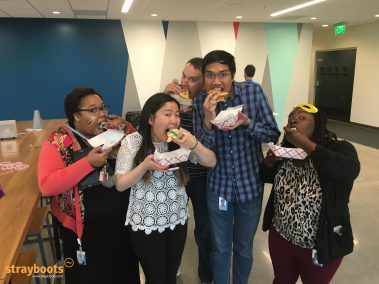 These benefits don't diminish as we age out of adolescence, and they extend to tables far outside the four walls of home. While many studies are focused on eating together in a family environment, research indicates a long list of positives to eating with your peers as well. From adolescence all through adulthood, eating with peers correlates with having more friends, lower rates of depression, higher productivity in the work environment, and, the one constant to sharing meals in any context, closer relationships.
Looking at it objectively, almost every single benefit discovered directly increases either performance or quality of life in the workplace. Who doesn't want employees to be happier, more productive, and to feel a sense of unity? When you couple that with the fact that we all need to eat, and most of us need to eat at least once during the workday, taking the time to eat with your coworkers almost sounds like a no-brainer. Whether it's buying the new guy in the office a burrito (Thanks again, Isaac!) or getting the whole team together for lunch somewhere, eating with your team is one of the best things you can to foster team building anytime. If the team is full and you're looking for more great team building activities, check out our Scavenger Hunts!