Top 9 Apps to Help You Plan or Manage an Event
Event planners have one of the most misunderstood professions. People are constantly telling them that they would love to have their job. Getting paid to make plans? Sounds so easy! But the reality is that event planning is extremely hard work.
If you've ever planned an event for a large gathering, you know how much time and effort goes into it.
Thankfully, technology has made it much easier to plan and manage events, no matter how large. Whether you do this for a living or you're just trying to pull off a seamless corporate event for your employees, take advantage of these useful apps.
We've listed our 9 favorite apps to help you with event planning and management in no particular order.
1. Asana
Asana simplifies event planning for any size gathering, anywhere from 10 to 10,000 attendees. Through the app, you'll be able to create tasks for the event with due dates and assign these to your team members. You can also manage vendors and guest lists.
To keep the actual event seamless, create a day-of-event timeline. You can develop schedules and to-do lists for the day and keep track of the event from your smartphone as the day progresses.
2. Boomset
For much larger events,Boomset is an amazing application for managing guest check-in. Conference planners may want to use this app for checking in registered conference guests. The app allows for fast check-ins to reduce lines and includes walk-in registration features for attendees who have not pre-registered. You can even print customized badges or wristbands for your event by using the Boomset web platform.
3. Top Table Planner
Top Table Planner is the simplest way to arrange a seating plan for your event attendees. Just drag-and-drop tables and guests to design your floor plan however you like. Play around until you find the best arrangements for guests at your event. This is perfect for weddings, banquets, or other larger dining events. But it can also be used for seating in rows, such as seating arrangements at a conference. Though you have to pay for the app, you can try it out free for 7 days.
4. Bizzabo
Bizzabo is a large suite of event planning tools in one elegant software package. Targeted toward medium-to-large-sized businesses, Bizzabo is ideal for planning large events with hefty task demands. The application includes a heavy focus on marketing your event, which makes it great for concerts or fundraisers.
Event planners can find everything they need to streamline task completion and team collaboration. The software allows you to build event websites for registration, emails for marketing, and agendas for event management.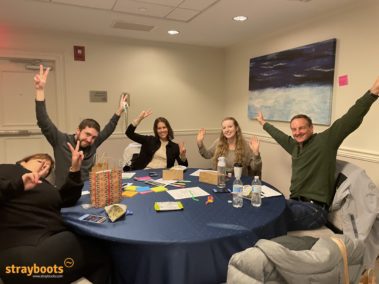 5. 24me
For a handy little personal assistant to help you stay on task with planning, try out 24me. The app includes integrated calendars, to-do lists, and notes. It automates events by keeping your tasks and schedules in one place and sending you reminders for them when necessary. You'll also be reminded of bills and other important information as the app connects to your financial institutions, social networks, and service providers. 24me is a nice organizational system for planning smaller events.
6. Blossom
Blossom is a project management app for distributed companies. But it also works great for event planning. Integrate instant chat applications such as Slack or HipChat to keep your event planning team connected. Create projects, assign tasks, and receive updates about your team's work. Create stages for the event planning project, which can be marked as "To do", "In Progress", or "Completed".
This app ensures that everyone involved in the event is kept on the same page. There's a monthly charge for the app, but you can give it a try for 14 days for free.
7. Localist
Localist is a simple events calendar designed to increase event attendance by boosting awareness and improving the public's discovery of your event. Using the app, you can create an interactive calendar for your event and then publish it for the world to see. Localist matches your website's branding and uses landing pages to increase conversions.
We love that Localist connects to Facebook, allowing potential attendees to select "I'm interested" for your event as well as view everyone else that's going.
8. Planning Pod
Planning Pod is a massive collection of amazing tools for event planning. From just one place, you'll have access to tools for attendee management, productivity, team collaboration, business management, and customization.
You can arrange seating, register guests, build event websites, and manage a guest list. You can also create schedules, budgets, to-do lists, calendars… the list goes on. If you're constantly planning large events, then Planning Pod may be your dream assistant.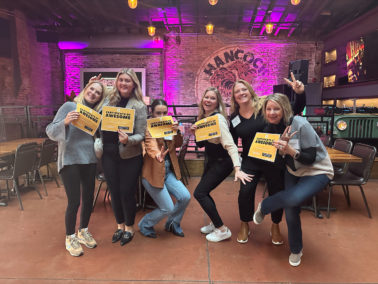 9. Strayboots
Finally, of course, we have to include our own event app on this list! Strayboots provides the perfect platform for event planners. Strayboots is not just an app but a service. We provide dedicated staff to work with you as you plan your event.
Our events are focused on team building, involving fun challenges and scavenger hunts guided by our smartphone app. Minimal effort is required as we choose a dedicated neighborhood for your scavenger hunt and help you customize challenges.
Your event attendees just need to download our app, and they'll be connected to the activity. They follow an interactive map and answer trivia questions to progress through the challenge, while event planners can monitor everything from our dashboard.
Let us help you plan your next event. Read what others have said about our events, and contact us!