Working as a Team: 3 Essential Skills You Need For Building the Best Team
Teamwork is essential for almost every job and career imaginable.
The ability to work as part of a team is one of the most valuable skills an employer will look for when hiring new employees, so it's worth taking the time to develop the skills you will need for effective teamwork. Whether you're looking for your dream job or hoping to get a promotion, these three skills are essential for success when working in a team environment.
Communication Skills
Communication skills are crucial for dealing with coworkers, customers and clients, as well as your boss. The ability to express your ideas, whether verbally or in writing, is essential for showing other people what you can do. Learning how to communicate effectively is an interactive process, which means that you also need to learn how to listen and understand what other people are saying. Taking a course,  reading books or contacting writing services that will help to improve your communication and listening skills can make a big difference to your career prospects.
Relationship Building
Good relationships are an important part of creating a productive work environment. Interpersonal skills are necessary for effective teamwork, as well as networking and work-related social events. The most valuable interpersonal skills include assertiveness, negotiation, conflict resolution and non-verbal communication skills, such as body language, facial expressions, and gestures. As with communication skills, there are plenty of courses and books that will help you to develop your interpersonal skills.
Feedback Exchange
Learning to accept criticism and feedback is an important part of professional development. Many people are afraid of negative feedback or become angry when they feel they are being criticized, but you can use this feedback to improve relationships with your coworkers. By accepting criticism graciously, you will create a more open and honest work environment where other members of your team feel free to express their opinions. Accepting criticism doesn't mean that you have to agree with the points made; it simply means accepting another person's point of view.
The ability to give constructive feedback and criticism to your coworkers is also important for creating a strong and productive team. Focus on using positive language when providing feedback, as negative words and accusations can make the recipient feel defensive, which will obstruct open discussion.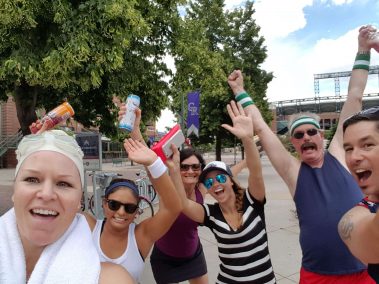 Teamwork is crucial for most jobs, so it's a good idea to spend time developing the skills you will need. Communication skills, relationship building, and feedback exchange are all essential skills needed for working as part of a team.
And, if you are into doing some fun team building activities, our scavenger hunts are built exactly on these 3 skills – Communicate with other employees, engage and build stronger relationships, and exchange knowledge and feedback with your teammates.
Our fun team building events have been used by many big companies, like Google, Amazon, Facebook, Microsoft, Apple, and more. Contact us today and let us help you build the best team!