Planning a Corporate Event: 4 Things You Need to Know

Event planning is such a broad subject and can be really applied to any industry. This can make it difficult to find useful information when you're planning a very specific type of event. Corporate event planning is a niche field, and planning events can easily become complicated if you aren't equipped with the right knowledge and tools.
Your corporate event will most likely be a conference, seminar, executive retreat, product launch, or employee appreciation activity. No matter what kind of event you are planning for, you should be as prepared as possible before you begin the process. Preparation and awareness will drastically increase the likelihood of your event's success!
Regardless of your experience level with corporate event planning, it takes a lot of hard work to pull one off. Whether you have planned and executed numerous corporate events already or if you are brand new to corporate event planning, you can benefit from learning a few tricks of the trade to make your event perfect.
There are so many factors that go into planning a quality corporate event, but make sure you:
Streamline your event registration process.

Maintain your corporate branding with an app.

Leverage past data to improve this year's event.

Cultivate relationships with your attendees.
As long as you follow these event planning guidelines, you will already be well on your way to hosting a successful corporate event. Now, you are probably raring to go and get started with your event planning, so let's dive in!


1. Streamline your event registration process.
Registration can be one of the most complicated and hectic parts of hosting a conference or other corporate event. It's easy to become resigned to the frantic rush of managing spreadsheets, balancing email, paper, and verbal RSVPs, and trying to find a way to keep track of all of your attendee data.
But it doesn't have to be this way. Believe it or not, registration can be the easiest part of your event process. It all depends on whether or not you are employing the right tools.
You should invest in event registration software that will manage all the difficult aspects for you. After all, why waste time and effort doing something manually when you can easily allow a software platform to do the heavy lifting?
Look for a platform that comes fully equipped with:
Customizable forms. Being able to custom design forms based on your needs is non-negotiable for event registration software. You should be able to build a form to capture any data you deem necessary. You don't want to find yourself with your hands tied behind your back because you couldn't collect the data you need. The forms themselves should be branded to your organization or event, too.
E-ticketing. Why bother with the stress of sending physical tickets when your attendees can have easy access to a digital ticket straight from their phone? With paper tickets, you inevitably encounter issues with lost or missing tickets, not to mention the time-consuming process of organizing and keeping track of the tickets on your end. Digital tickets are your best bet for a simple, quick, and easy registration and check-in process.
Payment processing capabilities. Don't bother with software that doesn't have a built-in, or integrated, payment processor. When your attendees are purchasing their tickets they should have a seamless experience throughout the entire process. Make sure your software will enable your registrants to use any form of online payment including debit, credit, and e-check.
Your organization shouldn't have to worry about the minutiae of registration as you keep your eye on the larger picture of preparing a corporate event. To see some of the best event registration software options, check out Double the Donation's list of top Eventbrite competitors.


2. Maintain your corporate branding with an app.
Nowadays, it's increasingly common to find individuals glued to their phones all day long. Mobile technology has become an integral part of how we communicate with one another and how things get organized. Don't be afraid to lean into the use of mobile technology!
However, you don't want to use a clunky, hard-to-navigate mobile app that just adds another level of frustration to registration. Platforms like ePly's event management software offer a tailor-made mobile app for your association that will revolutionize how you think about the registration process.
The best event app will provide a consistent and coherent user experience. Your event attendees should be able to download the app straight to their devices and access all of the information that would be pertinent to them. They should be able to easily pull up their e-ticket on the app to avoid any complications at the door.
Remember to find a software platform that will brand the app icon and interface to reflect your association's unique visual preferences.
Before you pull the trigger on adopting any software platform, make sure it is:
PCI compliant. This will ensure the payment processing system in your app is up-to-date with the standard of online security. You can assure your app users that their information will be safe when they purchase their tickets.
API compatible. The data collected in your app should easily be able to transfer to your CRM or any other database you use. With this capability, you can know that you have all the data you need for future events.
You may be wondering: What if there is something I know I will need but can't find a software platform that offers it?
The answer is simple: Find a software provider that is willing to work with your organization to build the tools you need to make your registration or your corporate education event runs smoothly.


3. Leverage past data to improve this year's event.
The best event planning decisions are well-informed and made strategically based on what will be best for the event. The data you collect each year at your events should always be used to inform future decisions.
You want your attendees to enjoy coming to your corporate event and remain engaged in the activities and programs that you offer.
Because any information you gather from your event registration software will be easily transferred to your database, you will always have the information you need at the tips of your fingers.
You should consider collecting data on:
The number of event attendees.

Who is attending your event.

Popular and unpopular event activities.

Busiest days and times of your conference or event.
This information will enable you to better plan which events you should continue hosting in the future. It can sometimes be difficult to predict how successful your corporate event will be and which programs will be received well by the attendees, but with this information, you won't waste time recreating unsuccessful events year after year.
With your event planning software's robust set of data reporting tools, you should be able to generate reports about your attendees and your event as a whole in real-time. This is extremely useful if you are planning a series of events and will allow you to make better, educated decisions about event strategy.


4. Cultivate relationships with your attendees.
Planning a corporate event too often devolves into countless hours of paperwork, and it's easy to forget the real reason you have corporate events. You should keep your attendees and your company's mission at the forefront of your mind.
Try to start, cultivate, and maintain meaningful relationships with your attendees so that you can network and create growth opportunities for you and your organization.
An easy way to unify your attendees and create a pleasant conference culture is to create custom merchandise, such as t-shirts, that are branded to your organization. If you want more information on how to create custom t-shirts, click here.
Getting your attendees into the conference mindset, however, is not the only hurdle toward making lasting relationships. There is a difference between enjoying a conference and actually engaging with that association in the long term.
Employ a simple, but effective, email marketing plan that will enable you to maintain contact long after the conference is over. Your email marketing tool should allow you to create personalized, branded messages to attendees.
Don't forget to use your email marketing strategy to reach out to attendees before the conference to welcome them. You can effectively begin to foster a relationship before the conference as well as keep them updated on future events and other ways to get involved in the future.
---
Corporate event planning is no easy feat. It can be overwhelming and intimidating but equipped with the right tools and knowledge you will be able to overcome any challenges. Effectively and efficiently execute a corporate event by having a smart strategy in place that utilizes your attendee data and simplifies your registration process while maintaining your corporate brand.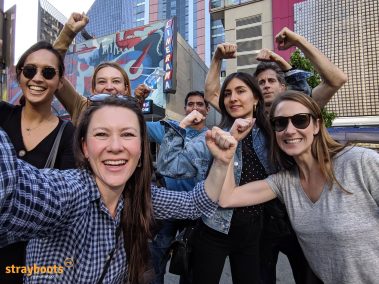 Callie Walker is a writer in the membership management software and event registration software space. She attended the University of Georgia, graduated with a Bachelor's degree in Public Relations, and went on to pursue a career in PR and digital marketing. She loves writing, event planning, and engaging with others on social media.
Callie also enjoys speaking at conferences and trade shows, particularly in the association space. She's spoken at conferences hosted by the Georgia Society of Association Executives (GSAE), the Florida Society of Association Executives (FSAE), the American Society of Association Executives (ASAE), and more.