Team Building Activities for a Start-Up Company
For companies of all sizes, team building is vital. Why? Because it promotes communication, teamwork, trust, and collaboration. For start-ups especially, team building is of paramount importance. If a new company's going to succeed, everyone has to get along and work well together.
Team-Building Treasure Hunt
This is an excellent example of a team-building activity. It works in a straightforward way: a treasure of some kind is hidden or buried somewhere, and people have to work as a team to find it. A prize awaits those who find the treasure first, which acts as extra motivation for people to collaborate. Treasure hunts can even be themed. For example, you could organize an Egypt-themed one, and what better way to get inspired than enjoying the Book of Dead slot and its top-notch design and graphics?
Company Trivia Quiz
In the last couple of years, we all have played a virtual trivia game, haven't we? A trivia quiz activity is easy to organize and can be very beneficial. Have the quiz take place every month or so and task a different person with managing and running each one. Of course, it's best if people take part in pairs or groups, not as individuals. Encourage people to swap quiz mates every time one takes place so that people get the chance to mix with others.
Games Night
A games night is where a group of people get together on an evening and play various games. The aim is to have fun and enjoy some friendly competition, but also get to know one another and build up working relationships more. You could have people play board games, video games, party games, or a mix of the three. Though gaming is quite competitive, a game night can be much more casual.
Outdoor Team Activities
There's no limit to the number of outdoor team activities that can help with team building. Water sports such as sailing, surfing, and kayaking are popular during the summer. Other sporting activities, including volleyball, football, and basketball, can be effective team builders too. Outdoor activities aren't just limited to sports. For example, you could go for a day trip somewhere or set off on a long walk or hike.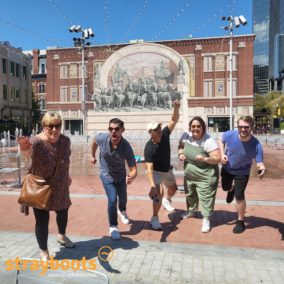 Team Sport Event
We've already talked about some sports, but why not make an event of it? You could have an Olympic-themed full-on sports day with more of a competitive element. Arrange people into teams and give the day a significant build-up so that people look forward to it. The more anticipation there is, the more seriously people will take it, and the more effective the team-building aspect of it will be. You could limit the day to a single sport or even have multiple sports involved. Softball, badminton, and field hockey are a few good sports for team building.
For a start-up company to have its best chance of success, the staff have got to be a team. Having people participate in team-building activities is a great way to form an efficient, friendly, and productive group of staff. The examples we've listed are just some of the many activities that can bring colleagues closer and help them work together better.