How to Prepare for a Workplace Tragedy
Important steps to take to be prepared before disaster strikes
The workplace is not immune to the impact of tragedies. Workplace shootings and natural disasters, for example, get extensive news coverage and have a tremendous impact on the psychological wellness of our society. These, as well as smaller events and personal tragedies, befall workers every day, impacting both the physical wellbeing and the health of your team as well as the health of your business.
53 percent of American workers report experiencing a traumatic event while at work – these range from heart attacks in the office, fires, workplace injuries, and more. However, only 46 percent of employers are prepared to cope with issues like these, according to a 2016 survey. While protecting against all contingencies is not possible, doing your best to plan for as many of them as possible is critical. Nearly two-thirds of employees said support from their company after a traumatic event would be a valuable benefit.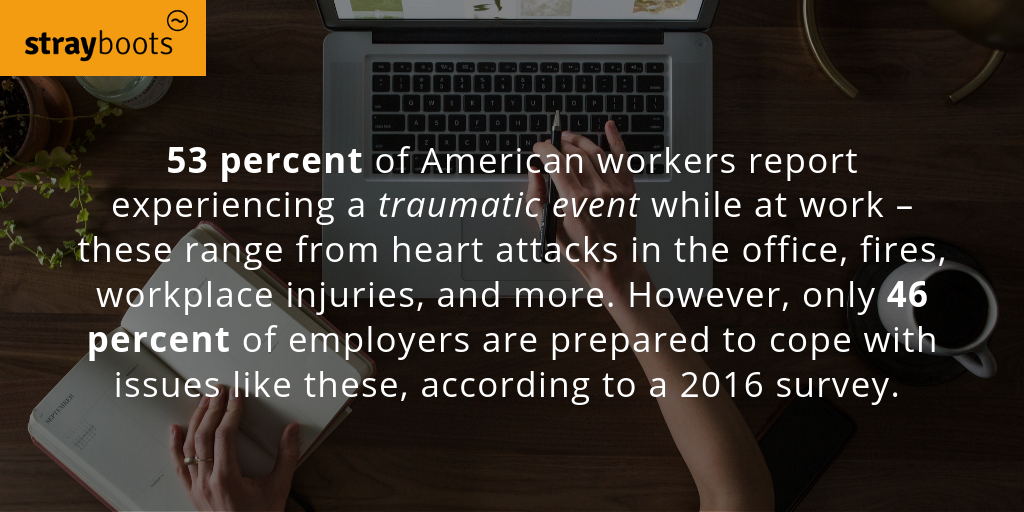 So, what can your organization do to be prepared to cope with traumatic events your employees may face?
Planning for the worst is never fun but given the number and range of potential incidents – from cyber-attacks to workplace injuries – planning is critically important. Ensuring that your teams know everything they need to know before a crisis hits, ensuring they are trained and prepared, will help to minimize negative outcomes.