Bootscamp = Winning Culture
Out-of-the-box Learning Platform for Corporate Learning, Onboarding and Orientation days
Build a culture. Not a workforce.
Bootscamp offers active and fun employee onboarding experiences like no other.
Bootscamp is not just about transforming the employee onboarding process. It's about cultivating the most important asset of all: human capital. It's no secret that companies with strong cultures thrive. Bootscamp takes the dull process of onboarding and turns it into an interactive, fun, and edifying experience. This improves engagement, adoption, loyalty, and collaboration.
"Strayboots is a great activity. We created a fun custom hunt at our campus - where new employees get a chance to visit different offices, meet other employees and learn more about the company. Our teams love it! They always come back with a smile." - Marta Strzyzewska, Wix.com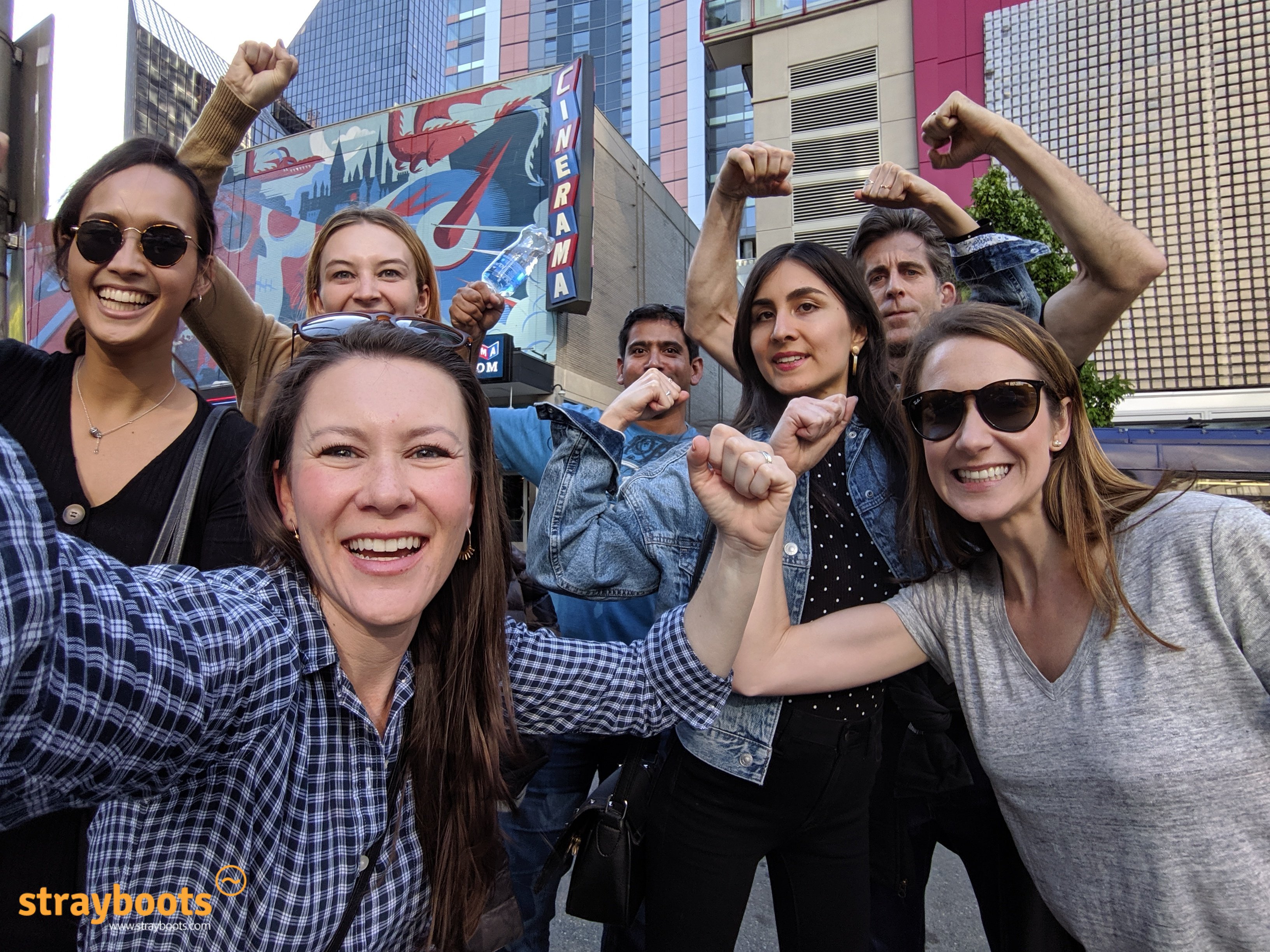 Bootscamp Onboarding = Serious Fun
Bootscamp gives your company a cultural edge; an unusual, creative method for training talent in a way that promotes active and social learning - and serious fun. Bootscamp custom scavenger hunts help reinforce key learning objectives. Easily integrated into any new employee onboarding program, the hunts help new recruits move while they learn, interact with key personnel and provide a memorable way to kick off an employment relationship. We take care of building your program, soup to nuts, and your content can be fully branded to you. Plus, the experiences can be cloud-based, so employees don't need to download specialized apps, or they can be built within your company's networks if desired. In addition, our software makes gathering intelligence easy; want to know which questions keep tripping people up, and which knowledge checks need revisiting more often than others? We give you this critical feedback.
Why Active Learning? Well, Active Learning is transforming the way we traditionally learn.
"It's not about replacing what you do, it's about helping you do it better by gamifying it." - Ido Rabiner, CEO & Co-Founder of Strayboots
Gamify your learning content

99% of our clients report that they have learned something new during our activities

Boost employee engagement

96% of the employees said our activities helped them improve engagement with their team

Build stronger teams

95% of the employees said that team members took responsibility for one another's safety and participation
Here's what people say about Bootscamp
"Each and every team was engaged, and the feedback was outstanding – we accomplished everything as planned, and much more!" -

Janine Moreno, JP Morgan Chase

"Our Strayboots experience was top notch. Getting set up was a quick and painless process, communication was excellent and customer service was on point. Highly recommended!" –

Tom Supple, Google

"An amazing solution for new employees, we received rave reviews and everyone were so engaged! I never saw them that engaged, and was never able to teach them about the company as fast as it was with Strayboots." –

Melissa Zucker, Public Reputation

"What the group enjoyed about this was mingling with people that they maybe don't always work with, or at least mingling with people in a different way. This is a work group, we do engage with each other in a variety of ways, but not like this." –

Debbie Smith, Microsoft
1

How is Bootscamp different from your regular scavenger hunts?

Whereas our traditional scavenger hunts usually take place in external locations (museums, city centers, conference facilities), Bootscamp is designed specifically for your office or your campus. It is a subscription service enabling you to offer recurring adventures to new recruits that teach and reinforce key learning objectives in a memorable way. Used to augment traditional onboarding methods (such as videos}, our scavenger hunts get your new recruits out from behind their computers. They promote active and social learning which, studies show, can lead to better information retention, and they get top marks for serious fun

2

What types of learning objectives can be met through these activities?

With our customizable platform, companies can implement any series of questions they choose, creating benchmarks for future knowledge checks. Whether an employer wants to gain an understanding of a new hire's software knowledge or their memory of safety protocol in case of emergency, Bootscamp has you covered. Some ways we've seen Bootscamp used to test knowledge and teach new hires: - Department or company-wide information - Role-related questions - Safety test (protocol for emergencies) - IT best practices, and more.

3

How do you help HR and learning professionals report success?

This is where the initial benchmarks come into play. With our one-year subscription model, employers can easily re-test employees over certain time periods (after months 1, 3, 6, and 12 for example) to see how their original scores compare. This will accomplish a few things: 1 - HR and learning professionals will have readily available information to show their superiors when calculating the ROI of the program. 2 - Seeing a pattern of low/high scores in certain portions of onboarding programs will allow these professionals to see where the program is struggling and may need improvement. 3 - The repetition of questions will ensure new hires absorb and remember the information in a way that an Employee Handbook could not accomplish.

4

Can Bootscamp be used for remote employees?

Absolutely! In fact, we have implemented remote scavenger hunts for several companies, including: Asurion, Payoneer, Verizon and Microsoft. With the rise of remote workers comes the inevitable challenge of keeping these employees equally as engaged as their counterparts at the company's HQ. Our live Leaderboard and chatroom allow employees participating in different cities to stay engaged and connected to their peers throughout their experience.

5

What organizations are good candidates for Bootscamp?

We target large companies looking to increase their retention rates and compete in the corporate culture arena. Because Bootscamp is sold as a renewable one-year subscription service, these larger organizations running new onboarding programs more frequently are our target audience. So far, we have had the pleasure of partnering with companies such as Google, Amazon, Facebook, Nike, Wix, Bank Leumi USA, and more.

Load More
For more information on your next team building activity, call us at 877-787-2929 or fill out the form below