Technologies to Improve your Office Space Teamwork
Maintaining efficient office communication and task management practices is the key to great teamwork. It's easy to get overwhelmed when the going gets tough, but it's also easy to manage using the right technologies.
We recently wrote about the importance of not ignoring new technologies (see here). It's common to stick to older programs since we're comfortable with them, but we could be hindering productivity by ignoring newer applications.
To help your team find out what works with them further, we've compiled a list of our favorite technologies that will improve teamwork by ensuring efficient communication and task management skills. In no particular order, here are our top picks!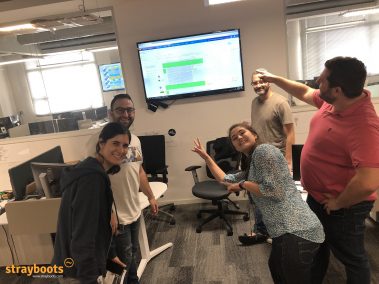 Say hello, Trello! This handy-dandy project management tool helps organize your businesses in an efficient way. By using boards, Trello makes it easier for individuals to keep track of projects. Get creative with the kinds of sections you create with Trello – try some lists of goals for the office! What do you want to achieve as a team? Have those in a card so that each teammate can be reminded of that goal each day. Don't forget to list some great accomplishments – praising individuals will keep them motivated!
Speaking about project management tools, monday.com (formerly dapulse) is another great application. The horizontal interface helps you visualize what projects are going on/coming up, who is working on them, and when they're due. You can also assign leads so that teammates know who is in charge of that project. Check out this list of ways to use monday.com here!
It's hard to imagine a world without Skype. Although this application is well-known already, it deserves more recognition for the many ways it keeps a team connected. We chose to put Skype on this list for its options that cater to both individual teammates and teams as a whole. You can reach a teammate anywhere by calling or messaging them individually at ease. Because you can access it on both your phone and computer, you no longer have to switch back and forth between different devices. Another excellent feature is the group audio/video call feature – you can hold a team meeting anywhere!
Don't be phased by the simplicity of this site. When2Meet is an easy-to-use tool to figure out the perfect time to meet. Simply create an event and share the link with your colleagues. They'll be able to sign their name and indicate what times/days work best. As your office fills it out, the link will update and areas on the link that are dark green indicate that most (or all) members are free at that time.
Last but not least, we recommend GroupMe for text messaging needs. Any teammate can create groups due to a project, section of the office, etc. with ease. Perhaps the coolest feature is that one doesn't have to have GroupMe to participate – the system allows you to contact and create groups through SMS. Although downloading the app is easier, SMS makes it possible to stay connected! The use of pound signs (or hashtags) help make this possible. Try it out!
Did you know that Strayboots' teamwork activities not only lower burnout but also develop better communication between employees? Our team building scavenger hunts are designed to have teammates problem-solve, communicate, strategize, and engage better, all while having FUN! It's important to work as a team in situations outside of the workplace, and going on an adventure is a great way to do just that. Try out our activities – we have many to choose from!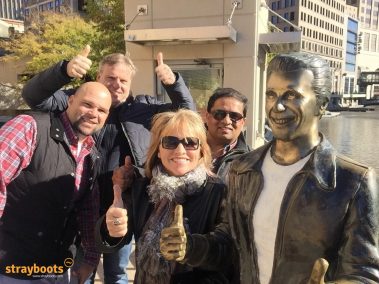 Challenge yourself, and your colleagues, to try something new. Try taking one of these tools and implementing it into your daily routine. Pay attention to the results – did it help you connect with your teammates better and stay organized? Are your teammates finding the software easy to use? Make sure to really listen to your colleagues here – the goal is to find something that will work for your team as a whole.
Remember – you don't have to completely change your systems in place. For further help, check out our other post about the best apps to plan events with. Make sure to enjoy good teamwork – the possibilities are endless!