Helping Unmotivated Employees with Team Building
Most companies have at least one employee that seems less motivated than their colleagues. It can be tough to figure out how to approach helping your employees, and we have a solution for you – team building.
It can be frustrating when your employees/colleagues aren't engaging as much as you'd like them to be. In order to help those employees, you first must get into their mindset and try to understand why they are feeling this way. These steps include using listening and evaluation skills.
One of the most common reasons for unmotivated employees is due to employee burnout. When one is overworked, it's hard to feel motivated for upcoming projects/events. Take a step back. What has your office environment felt like recently? Are you stressed? Rushing to get things done on time? Are you really working as a team? Before moving on to any sort of solutions, it's important to re-evaluate the climate of your workspace. Put yourself in their shoes – It is easier to see the burnout in your company and understand why your employee is going through this.
Personal troubles are also other reasons why your employees could be going through a hard time. Yes, we all have struggles to tackle each day, but one employee could be mourning a loved one, feeling sick that day or downright feel anxious/depressed. Make sure you're taking time out of your schedule to meet with these employees. It doesn't have to be long – we know you're busy!
Taking those 5 or 10 minutes to engage with your employees can make a big difference. It shows them that you genuinely care and want them to continue to succeed with your company. In stressful environments, it's easy to forget about what one is dealing with. One kind action makes a big difference.
One of the greatest parts about working as a team involves brainstorming and combining ideas and backgrounds. However, it doesn't matter if the employee is an office veteran or a fresh face, they can still be bored with the work they're doing.
Work won't always be fun, but it's important to recognize if your employee is doing the same tasks each day/week. Some enjoy having the same kinds of projects to work on or clients to meet with, but it's important to recognize when this isn't the case. What can you do to change their daily routines up and reinvigorate them?
Lastly, low self-esteem can contribute to an employee's unmotivated attitude. If an employee doesn't feel confident in their abilities and their work, chances are that they aren't looking forward to the next task ahead. They might not feel as comfortable with new technologies your company is using, or aren't as interested in coming up with new, creative ideas.
One with a low self-esteem might envy other coworkers for skills they don't have. The important thing to remember is that they are there for a reason, and that each individual brings something new to the table.
These reasons are intertwined, and although we have mentioned smaller solutions, there's a bigger solution to check out – team building.
There are many fun activities to participate in to rejuvenate your employee's spirits. Try something old-fashioned such as playing a strategic board game, doing company trivia and/or using a fun ice-breaker! We all have a playful, kid-like side to us, and these fun activities will help break up work weeks and refresh your office.
Our scavenger hunts and team building activities have been wildly successful among our clients. Our high-tech, fun activities have helped companies and employees get out of plateaus.
Remember – this is going to be a FUN experience! It will instill team-building values and techniques, but you're going to have a blast doing it. Don't forget to communicate that to your employees. The proof is in the pudding – take a look at Allrecipes' fun experience with us here!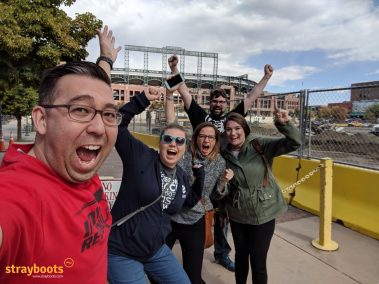 Kicking employee engagement up a notch with great team building activities is the key to helping your unmotivated employees. Each employee is different, and while this may not work for all employees, it will give you an idea of the situation at hand. Strap on your boots, have fun and let's get team building!