Scavenger Hunt Ideas in Nashville
Are you looking for an amazing team-building activity or team bonding option for your group?
Are you in the Nashville area? Then, check out all our great options!
Nashville is an amazing city to live in or visit.
Founded in 1779 and named for Francis Nash, a Continental Army General during the American Revolutionary War, Nashville is the most populous city in Tennessee and one of the nation's fastest-growing economies. Called "Music City," Nashville is home to the Grand Ole Opry, known for country music performances and legends like Johnny Cash, Reba McIntire, Loretta Lynn, Minnie Pearl, Vince Gill, and others who have graced the stage there. The Ryman Auditorium has also seen stars like Dolly Parton and Hank Williams and now hosts shows of all genres. Bars, restaurants, and performance venues offer live music every day of the week, and it's not just country music. Bluegrass, rock, pop, and a wide range of styles can be heard throughout the city.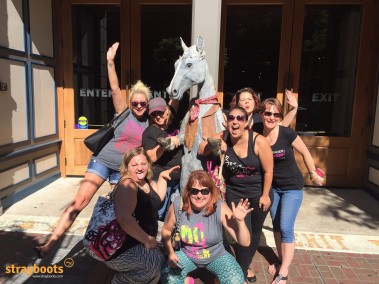 Strayboots strives to bring your team a special team-building event that's not just a blast but perfect for your group. So whether you're doing a corporate outing, an orientation day, a competitive scavenger hunt, or a trip with friends, we've got a custom resolution for you. We'll work with you to supply the proper team-building event that suits your group's desires within Nashville.
Here are some of our great team building options:
Strayboots Strategy Game
Can you beat the clock and our Nashville Strategy Scavenger Hunt?
You've not explored until you tried it! This game lets the team decide their own route and plan of attack by utilizing our web-based technology. Your team will work together to solve riddles and complete challenges, all while mapping out their own route. This type of hunt challenges your team with problem-solving, working together to improve communication and problem-solving abilities.
Teams can ultimately win by developing the most effective strategy to achieve the most points. So what's going to be your strategy?
Food and Drink Hunt at Downtown Nashville
Explore the places and faces that created the city's history, from Jackson's recent stomping grounds to Civil Rights-boycotted grounds. This scavenger hunt also features the sacred halls of live music in town, Ernest Tubb Record Store, and the illustrious Honky-tonk Bars. Of course, we will add any bars or restaurants within the Downtown space as well!
If you are a dreamer, you can check out and add Headquarters Nashville to your hunt.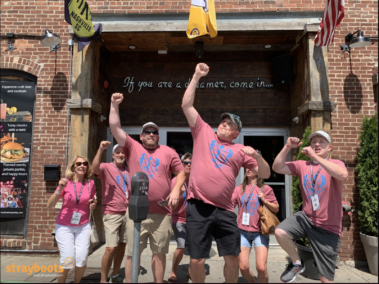 Company Relay Scavenger Hunt
Your place, Your employees, Your rules!
Make an excellent initial impression with Strayboots to welcome new hires, making sure they get to grasp the workplace. You recognize the saying: you never get a second chance to make a first impression. So let's start the conversation and welcome back to the office with Strayboots.
Our digital employee onboarding solution gamifies the experience of new hires learning company history, values, and policies while orienting staff with their new workplace surroundings and teammates. Who said onboarding has to be typical and boring? We'll work with you to make a tremendous experience that proves to be the most effective introduction to your company.
Downtown Nashville Music & History Combo Scavenger Hunt
Head downtown to explore the original scavenger hunt in Downtown Nashville. From country music legends to the best restaurants in town, downtown is the place to be. Looking to beat employee burnout and build company culture? Then get out of the office and get your Strayboots on!
Our interactive mobile scavenger hunts are designed to enhance team bonding without the hokey trust falls. Solve riddles, complete challenges, and explore your town, all while enhancing team bonding with some serious fun. So whether you're hoping to energize old staff or orient new ones, we have that secret sauce that'll break the ice or shake up that same old workplace routine.
Competitive Mobile Trivia Game
It's a fun, virtual interactive team-building event that includes a broad array of trivia such as Movies, TV, Geography, Sports, Science, History, and more. Are you not ready to head back into the office? Try this option for your team! Think of it as a virtual scavenger hunt, where groups work alongside each other to unravel riddles and challenges, take team photos, and learn together. It's fun for everyone!
Custom Team Building Event
Time to let your imagination go wild! Let us create a custom event for your team with the assistance of our event planners. At Strayboots, your wish is our command. Cater to your company's values, practices, and more with an activity that enables you to explore your surroundings and your co-workers' competitive sides! Use our Downtown hunt as the base, and we can build from there!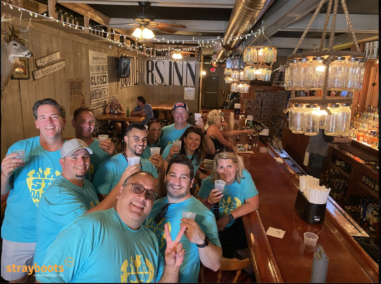 Why not try one today?
Let's make this year's company outing unforgettable! During our corporate team building scavenger hunts, your staff can be part of groups to unravel our clever riddles and explore all that Nashville has got to supply, from neighborhood classics and food joints to historic haunts and quaint favorites.
Nashville is ready to be explored today.